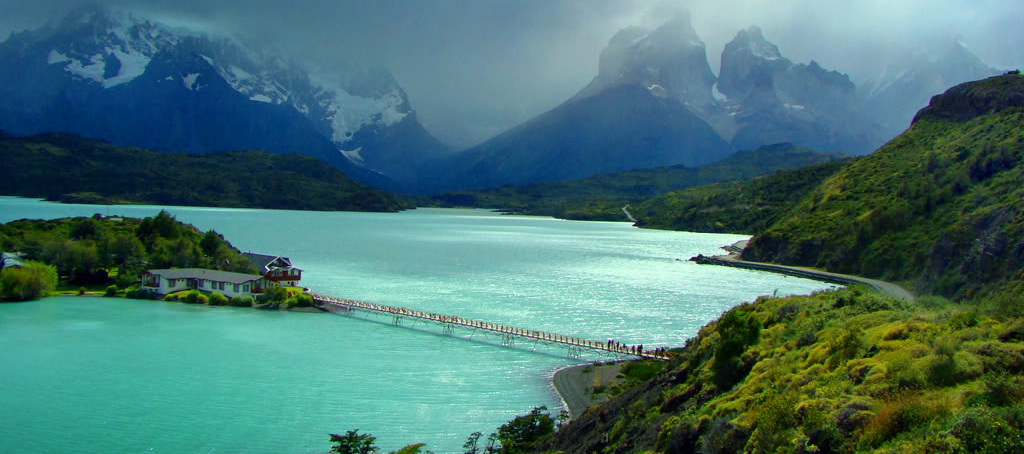 Villarrica
Villarrica is surrounded by lakes, volcanoes, caves and hot springs and is a hugely popular hiking destination. In the summer it can be nice to stay in Pucon, a small beach town on the banks of Lake Villarrica. You can also explore the area by horse or go on rafting trips. The highly active Volcan Villarrica (which erupted as recently as 3rd March 2015) is a stunning sight but trips up it are very much restricted because as you might imagine it can be fairly dangerous!
Cochamó Valley
Hiking, rock-climbing, ridiculous valleys and cliffs as well as some rather wonderful natural waterslides are all the rage here. You can get to Cochamo by taking a bus from Villarrica to either Puerto Varas or Puerto Montt and then transferring onto a bus into the isolated Cochamo Valley which has limited lodging options but camping is also possible for those who like it wild.
Chiloe Island
It doesn't really matter whether you head to Cochamo or Chiloe first as to access either you need to pass through Puerto Varas or the larger Puerto Montt. Chiloe is the largest island in Chile with more incredible scenery and treks as well as some lovely little villages and plenty of intriguing ancient myths.
Puerto Varas
A compact and unremarkable town but a decent base for more Lake District adventures. Options include the Vicente Pérez Rosales National Park, home of the Petrohué falls and Lake Todos los Santos. The stunning Osorno and Calbuco volcanoes are also nearby. Mount Osorno has a pretty cool chairlift which is open all year round and is used by skiers in the winter and pretty anyone who likes a view in the summer. Kayaking and rafting is also possible close to Puerto Varas and it is your best base for getting to Argentina!
Getting from Puerto Varas to Bariloche:
As the crow flies there is little more than 100km between Puerto Varas in Chile and San Carlos Bariloche in Argentina. However with some rather large mountains and plenty of lakes in the way, crossing the Andes will be a nice experience. It takes about 6 hours by capervan from P. Varas to Bariloche and includes a stop at the border post known as Paso Cardenal Antonio Samoré which is one of the better organised of the Andean crossings between the two countries.
San Carlos de Bariloche (& Nahuel Huapi National Park)
The long trip here will soon be worth it when you start exploring the beautiful Argentine lakes and mountains in the area. It is famous for skiing, water sports, trekking and climbing. The town itself is also one of the liveliest in Patagonia, with a swanky Swiss-like vibe and some banging bars and clubs that party on past dawn. It is certainly an essential and usually very popular stop on any Patagonia backpacking route.
Esquel (for Los Alerces National Park)
Esquel is 300km or so south of Bariloche and is used as the gateway for Los Alerces National Park. It has loads of great hiking trails and is very large going right up to the border with Chile. The park takes its name from the alerce trees which are literally everywhere. The town itself is small and growing but has nowhere near as much going for it as Bariloche.